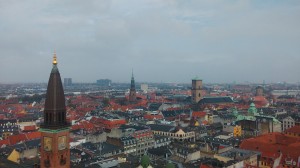 I have been lazy or busy, you decide. I have recently thrown myself at a job outside of archaeology, a call centre in fact and my day to day work consists of customer service in both English and German. Despite this straying from archaeology, I have tried to keep it close to my heart, but unfortunately sometimes a little too close, straying into my free time outside of work and putting me under a little bit of pressure. In an overcompensation I jumped on any project I could, and so I started having to juggle things. April has been really busy for myself, at the start of the month I had to go back to Northern Ireland for family, then headed to the Hidden Heritage Conference in Dorchester, after which I was in Copenhagen and finally CIfA 2016.
I have been bowled over and drained but paradoxically also recharged and refreshed. I have better ideas now about what I want to do and where I want to go. This brings me to the Archaeology Podcast Network, which has been going from strength to strength over the last year. Today we have 13 amazing shows broadcasting out and I am surprised when I tell people about the network and they have already heard of us. To me this is all the beginning of something really great, something powerful; I am hoping we are putting the power to create in the hands of archaeologists rather than just have archaeologists be the talking heads for other production companies. We as a profession bemoan the content that is out there in the big bad world but we are powerless to change it, how can we ever make TV shows? Ultimately anyone who works with TV is at the behest of the producers of those shows who want a particular product, or at the very least a product with a veneer of professional archaeology.
In saying this, I have to admit that a handful of programmes actually do things well and I think we can't tar everything with the same brush. However the programmes that don't do good archaeology are the most harmful, they portray archaeology in the wrong way. Take for example the recent Battlefield Recovery, a cynically, tasteless romp through the eastern front digging up war dead. The behaviour shown on screen towards the human remains of people who had died demonstrated a complete lack of empathy and decorum. Worse still it indicated that this is how bodies of the dead ought to be treated through its presentation of "knowledgably people" performing the excavations.
Archaeology needs to make its own media, we need our own TV studios, we need to combine archaeology and media as archaeologists, we have to offer something new. It has been argued that a more "authentic" archaeology shown in media wouldn't capture the hearts and minds of the general public but I would disagree. I think that we as archaeologists must deliver a better understanding of the past to the public and I believe that we can do it by 'being ourselves'. As archaeologists we can be enthusiastic, we can be electrifying, we can be different but we can also be boring.  There is no hard and fast rule as to what makes an archaeologist since we are quite a diverse bunch when it comes to our personalities.  I'm sure there are production companies that focus on heritage but I feel that often this topic at hand has more to do with the companies that are tv production companies first, doing archaeology as a project rather than a theme.
This is where I want to go, content creation, archaeology heritage and society all in one go, to provide not just an all round information man but rather a way of looking at archaeology that is not often shown on tv. I'm starting with what I can manage in my free time but I hope that with advertising and sponsorship that I can media creation in to my life's work.